At the WWDC 2019 event, which took place in San Jose yesterday, many innovations, from tvOS 13 to WatchOS 6, iOS 13 to iPadOS, MacOS Catalina to Mac Pro, were announced. Let's examine these innovations all together.
tvOS 13
With the TVOS 13, the Apple TV 4K has a new Home Page, while it also gains multi-user functionality. While Apple TV's support for Apple Arcade is increasing, Apple Arcade is starting to support Xbox One S and PlayStation DualShock 4 controls. Apple, collaborating with the BBC's National History Unit, which has prepared the documentary ara Blue Planet altı for the new screensavers that came with the tvOS 13, offers users underwater shots from less-discovered locations.
ipados
Apple's iPad-specific operating system, the new iPadOS 's main page contains more tools.
With iPadOS, more multi-tasking is added to the iPad. Thanks to iPadOS, Widgets can be fixed to the screen, while Slide Over features multiple applications.
iPad users can now work with multiple files and documents on the same application at the same time thanks to the updates from Split View, or can quickly see and switch between applications in Slide Over.
New features are added to the new iPadOS Safari. The desktop-class browsing feature-winning Safari will then automatically bring the desktop view to the users instead of mobile. iPadOS automatically scales desktop versions of websites to the iPad screen and makes them suitable for tapping. Web applications such as Google Docs, Squarespace and WordPress can work efficiently on Safari on iPad
Similarly, there is a download manager included in the features added to Safari. Safari also includes important innovations and improvements in tab management, such as download manager and 30 new keyboard shortcuts.
By the way, let's say that Apple Pencil's speed of taking action has increased. 20 ms. The range of action was reduced to 9 ms. With Apple Pencil's evolving mark-up features, you can now scan the entire document, not just a specific page. Let's add that users can point and send all webpages, documents, or e-mails by swiping the Apple Pencil from the corner of the screen.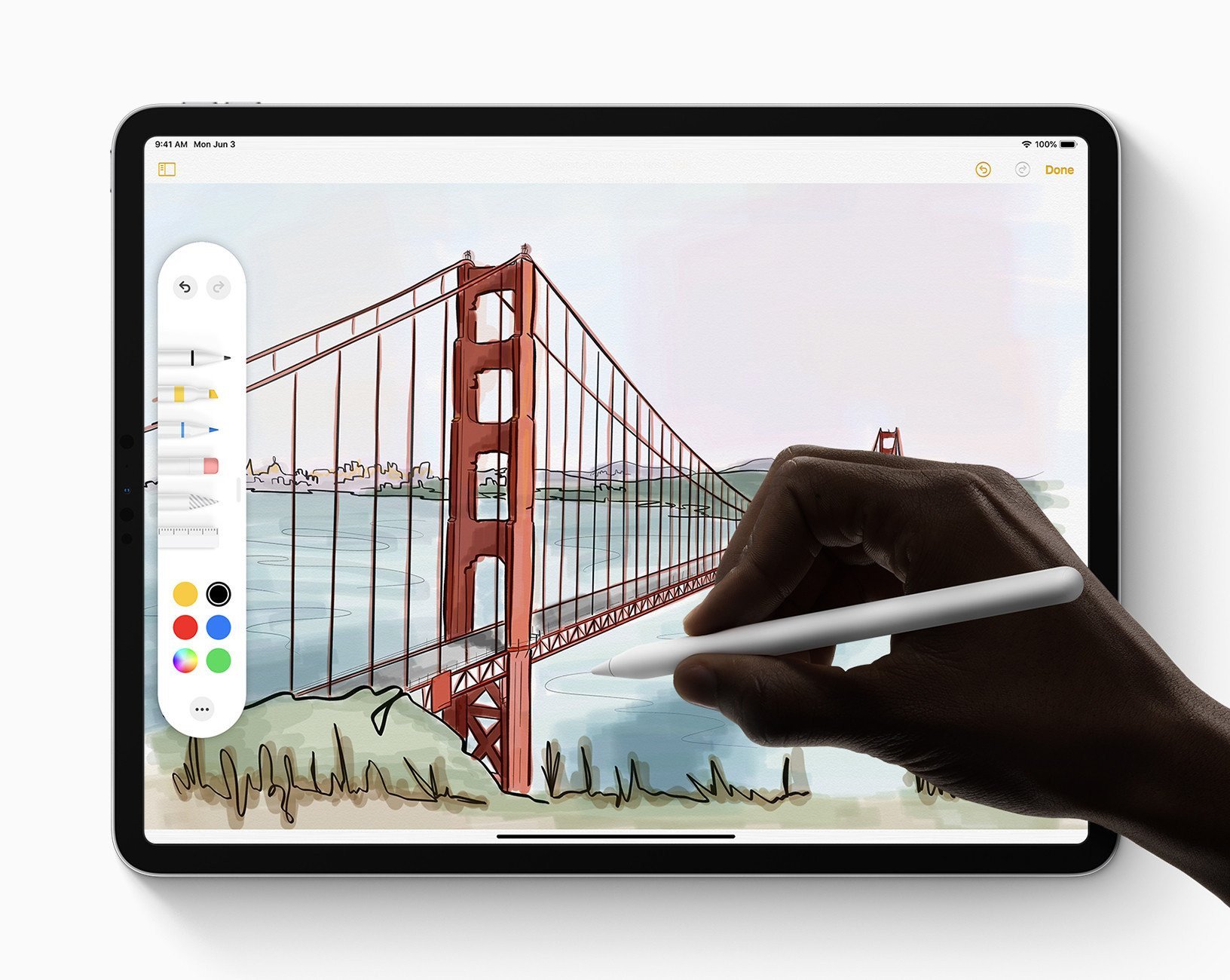 Finally, we can say that Apple has brought a Macbook experience to the iPad. Now users can easily play Cursor on iPad and copy and paste them with 3 fingers. Even users can make use of the undo feature when they make a mistake.
MacOS Catalina
macOS announced 3 new apps from iTunes instead of Catalina. Music, TV and Podcast applications will be published.
Thanks to the new Sidecar feature, users can use their iPads as the Mac's second screen. This allows users to draw remotely.
Launched with MacOs Catalina, Project Catalyst makes it easy for developers to convert iOS applications into a Mac application.
Other innovations announced under the MacOS Catalina are at the security focus. Users will be able to easily locate their stolen Macs with the Find My app and completely turn off their Macs with Activation.
Mac Pro
The new Mac Pro is a special Apple product designed for professionals. Leaving its rounded lines behind, Mac Pro stands out with its classic personal computer design, which we call Tower type.
Let's say that the new Mac Pro has a 28-core Intel Xeon processor. However, the device can support up to 1.5 TB of RAM. And for this, 12 slots are available on the Mac Pro.
8K support along with the new Mac Pro will now become a normal feature. It is possible to say that 8K content, which will be consumed on many devices that will start supporting 8K today, will probably be prepared through Mac Pros.
The new Mac Pro monitor features a 32-inch LCD display. This 6K Retina and HDR-supported display has a resolution of 6,016 x 3,384.
Finally, the new Mac Pro's base model will come with an 8-core Xeon processor, 32GB RAM, 256GB SSD hard disk and Radeon Pro 580X graphics card. This model, which will be presented with the 5999 price tag, will replace the shelves in the autumn months.
iOS 13
Dark Mode: The iPhone interface can now be customized to be used in a dark mode as well as the white background.
Photo Editing: With the new features added to the camera, the photo studio is now in your pocket, making Apple portrait mode much more useful. You can get a more soft look by adjusting the light in your portrait photos, especially as you take pictures in a studio setting.
Photos: With the application that comes with the photos, the application presents the best by analyzing these frames if there are more than one of the same frame. This means that the application of the artificial intelligence-assisted photographs, which store your photos in a much more regular manner, is intended to be a depol daily şekil.
Sign in with Apple: Apple, a product competing with giants like Facebook and Google, can be used if you want to have a private mail address when you log in to a system. Thus, you can give your e-mail address or hide your email address so that Apple can share a secret e-mail address for each site.
Apple Maps: In the first place, only the US users in 2020 with features to be published in selected new countries, users can add bookmarks to the map, collections and lists as friends can share and whenever you want can reach quickly and easily.
Other features featured in iOS 13 are the new Reminders application, Memoji stickers, Siri's natural toning capability and the new CarPlay panel.
watchOS 6
With WatchOS 6, Apple Watch owners can easily download Watch apps via an AppStore. At this point, you should remember that the apps you used on your iPhone were automatically installed on your smartphone after pairing your smartphone with your phone.
new on watchOS 6 Cycle Tracking The app offers women the opportunity to record important information about the cycle cycles by taking advantage of Apple Watch's ease of use. Thus, users can predict the next period and fertility window. Let's add that the new Cycle Tracking feature can also be used on iPhone with iOS 13.
Apple Watch's new Noise app helps users understand the sound levels that can adversely affect hearing in environments such as concerts and sporting events. As the volume level changes, the application's decibel measures the value in real time.
New developer tools include an audio API for music, radio and podcast transfer, as well as an API that provides longer runtime for session-based tasks such as physical therapy and meditation, and CoreML is now the Apple Watch Series 4 for faster processing of in-device inputs. Apple uses the Neural Engine.
It is also possible to compare watchOS with your sports activities in the last 90 days or the activities you have done in the last one year.
Finally, watchOS 6 features new dynamic clock dials, customization options that give you more personalization opportunities, and access to your favorite apps, contacts, and information. Some of these are: Modular Compact, Solar, Gradient and Numerals.
ARKit 3
With ARKit 3's Motion Capture feature, people's movements can be incorporated into the application, but with the People Occlusion feature, these movements can be positioned in harmony with AR content. Such AR modeling can easily be placed around or behind people in a harmonious way.
Thanks to ARKit 3, the front camera can capture up to 3 hundred expressions, as well as front and rear camera support.
RealityKit offers realistic models and outstanding media coverage. It also supports noise and blur effects.
Lastly, I can say that Reality Composer for iOS, iPadOS and Mac helps developers easily produce and prototype AR experiences.