Mozilla has released Firefox version 65 for Windows, macOS and Linux today. In addition to simplified settings for better tracking protection, the new version now also offers handoff under macOS and supports the video codec AV1, Google's image format WebP and MSI installations.
New tracking protection features
Firefox's developers have expanded their unwanted tracking protection to make it easier and more accessible for less-advanced users. Under "Privacy & Security" new settings have been created, which should provide in the three levels "Standard", "Strict" and "Custom" for more security and ease of use. For example, the default setting suppresses activity tracking elements only in private windows, whereas the stricter option eliminates all traces detected by the browser. However, this carries the risk that some websites may not be able to be properly accessed.
In the user-defined settings users can choose in which windows which cookies should be blocked. At the same time you can set which block list Firefox should use for protection.
For ease of review, the information panel, which can still be accessed via the "i" located to the left of the address bar, has been redesigned and expanded to include a listing of the selected level as well as the tracking elements and cookies found on the website , In addition, from here you can jump directly to the step selection.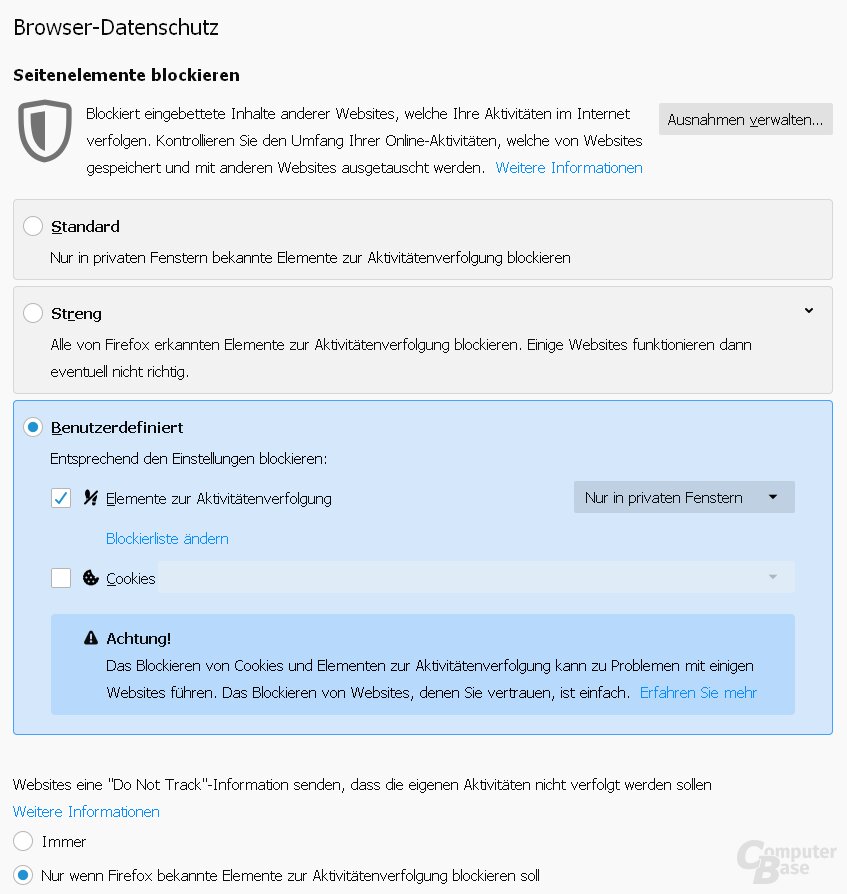 Advanced Task Manager, AV1 and WebP
The task manager introduced with the previous version was also extended by a display for the used memory. This helps especially on weaker systems, if once again Firefox takes up too much space in the RAM and slows down the whole system. This can be reached via the menu item "Miscellaneous" or by entering "about: performance".
Windows users will benefit in Firefox 65 now from the support of the license-free video codec AV1, which is the next quasi-standard for video on the Internet and is to compress more than any other video codec before. In addition, the new browser version is now also pictures in Google 2010 WebP format presented, which also requires a smaller file size with the same quality. Microsoft Edge has been supporting WebP since October 2018, while Chrome has been supporting the presentation ever since.
macOS handoff and MSI support for Windows
Users of macOS can benefit from the handoff support, which is intended to seamlessly continue activities under iOS on Firefox or Safari on Mac machines under the new browser version. In addition, Mozilla Firefox 65 for Windows users provides installation files in MSI format, which can simplify the distribution of the browser in companies.
Easier handling of language packs
Last but not least, the new version makes it easier to change the languages ​​used, which can now be specified in the settings under "Miscellaneous". In addition, multiple language packs can now be installed and set for specific pages without reloading individual local versions.
Downloads
4.5 stars

Firefox is a free browser of the nonprofit Mozilla Foundation, many extensions.

Version 60.5.2 ESR

German

Version 66.0 Beta 11

German

+2 more