Discord wants to further expand the store division launched in October 2018 and integrate it deeper into the chat platform. The focus should be particularly on a diverse communication and networking of developers and players, with which the provider wants to stand out from the competitors Valve and Epic Games.
Self-marketing and distribution via Discord
While Epic Games has always wanted to delight its own store with regular free games and exclusive titles, and to attract developers with low commissions, Discord still wants to score with its existing user base. After the introduction of the distribution platform to increase the nitro status to the game subscription, the existing users are now presented as easy-to-reach addressees of the developer: Dedicated game server, the connection of "Commerce and Community"And access to chat features to lure game makers on the platform.
"Integrating Commerce and Community"
Discord
Although servers that have been marked as verified have been available for a long time, a server associated with the game and operated by its developer should now have additional marketing and sales functions.
Apart from optical adjustments, this involves the embedding of the store area previously separated from the chat functionality into the server. So a dedicated channel instead of a message history to call the store page of the game. For sales via this portal, the developers should also receive 90 percent of revenue – so Discord lowered as announced the own commission in some cases below the level of Epic Games.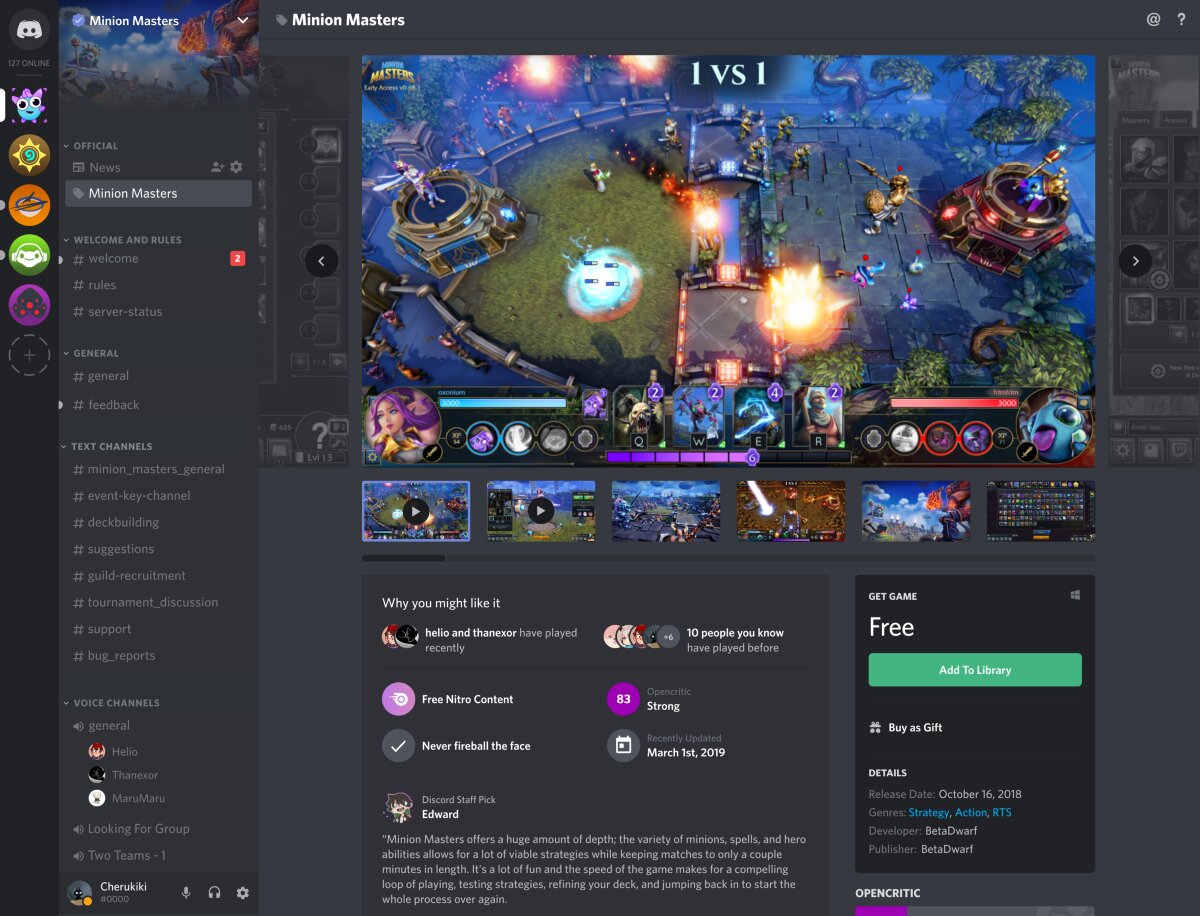 Game and Discord are to merge
Furthermore, access rights of game and server can be synchronized: If a player, for example, a beta test belongs and may play certain content in advance, he should receive exclusive access to a corresponding text chat. In addition, announcements in the dedicated news channel should be projected directly onto the user's activity start screen – even those who do not belong to the server but have the corresponding game on Discord. In addition, developers should be able to distribute in-game content via the text chat.
Even away from the user Discord wants to offer future developers more incentives: So it should be possible for a fee from then on to access Discord SDK and integrate, for example, the voice chat of the platform directly into their own game. You also want to support the cloud-based saving of games. Recently, Discord announces the addition of its own analysis tools, giving developers better insight into revenue, views, or game time.
Between Steam and Epic Games Store
It's clear that Discord continues to see Steam as its biggest competitor: Valve's store has been providing many of the announced features for a long time. Epic Games sees its own distribution platform anyway a different target group, as the company announced earlier this year. Razer is no longer competitive: the peripheral manufacturer's store was closed last month.
Downloads
4.3 stars

Discord is a modern alternative to the voice chat apps TeamSpeak and Mumble.

Version 0.0.305

German

Version 0.0.255, macOS

German

Version 0.0.9, Linux

German